Companies

Patel Roadways Ltd.
Is one of the largest logistics conglomerates in India offering unified solutions through surface transportation, Door-to-door Express service all over urban and rural India, besides offering services in warehousing and secondary distribution.
In 1959, Asgar Patel started Patel Transport Corporation and purchased his first Truck. He drove it himself and ultimately later in 1962, he transformed Patel Transport Corporation to Patel Roadways (P) Limited and expanded the business and network as the Managing Director of the Company. Patel Roadways went on to become one of the biggest Road Transport companies in India and was converted into a Public Limited Company on 29th October 1993. This Transport company, carrying cargo worth Rs.60,000 million annually, was proud of a clientele in the likes of Glaxo, Unilver, Lipton, Parke Davis, Brooke Bond, to name a few. Recently, "Patel Retail" was launched with a view of offering customers door pick-up – door delivery and time bound service packages at considerably lower rates than currently available. With it's brand new fleet of trucks and the installation of the "WebXpress System" commissioned to enable clients to trace their shipments on the various stages of it's journey, Patel Retail continues to carve a niche for itself.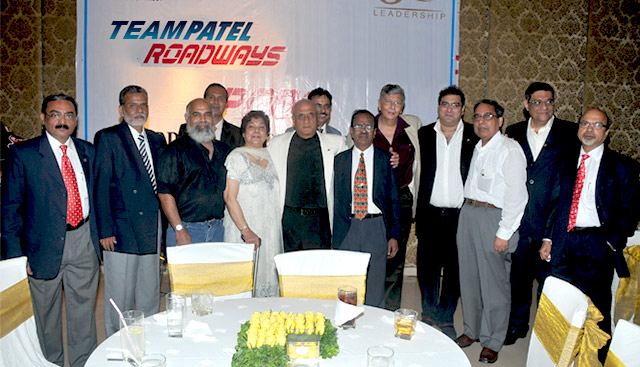 Having completed 50 glorious years, this Company has earned the reputation of offering the finest services with strict adherence to delivery schedules.


Patel on Board Couriers Limited
Back in the 80`s Retail courier business grew in leaps and bounds augmenting with it a corresponding need for consolidation of cargo for the string of courier companies across India. This gave Asgar the idea of becoming the Courier of Couriers and soon Patel On-Board Couriers Ltd. was soaring with success.

POBC controls a major share of the domestic and international co-loading market catering to the needs of DHL, Fedex, UPS etc., carrying over 100 tons of courier material on 60 flights and 135 surface linehauls everyday. POBC also operates an Airfreight division called Patel Airfreight, which is an IATA approved cargo agency offering domestic/international air-cargo services. With the opening up of the Indian Aviation sector, several new airlines entered the Indian market, thereby increasing the availability of air cargo space several fold.
Patel Integrated Logistics Ltd.
As part of its strategic plans, Patel Roadways Ltd. & Patel On-Board Couriers Ltd. merged to offer unified logistics solutions through surface, air and sea transportation, Door-to-Door Express Service all over urban & rural India, besides offering services in warehousing and secondary distribution. The amalgamated entity provides logistics services to it's customers at the highest quality and competitive prices, whilst keeping pace with the changing dynamism of customer demands as well. By providing new service ranging from door pick-ups and deliveries of small packages, from the consigner to the consignee, to transportation and warehousing and well as distribution, Patel Integrated Logistics Limited has covered the entire gamut of logistics services. The company has been steadily delivering on its promises whilst boasting of an esteemed clientele, state-of-the-art technology, investment in IT, an Advanced Tracking System (ATS) and a strategic pricing policy giving it the cutting edge over its competitors.
This industry is the backbone for several upstream manufacturing and other industries in order to ensure timely supply of raw materials, as well as aiding the distribution of finished products not only domestically across India, but globally as well. Improvements in the road and rail infrastructure have provided fresh opportunities in the sphere of surface cargo movements.
Natasha Constructions
In 1981 Natasha Constructions Ltd. started off with the construction of the Group's very own corporate office in Bandra, Mumbai. This cemented the Group's decision for diversification into the construction area. Construction companies namely Wall Street Construction and Natasha Constructions Pvt. Ltd. constructed 500,000 sq. ft. of Housing Projects in Mumbai, Pune, Bangalore & Goa. These constructions found widespread favour amongst customers not only in India, but also with NRIs abroad. Natasha Sea View at Carter Road, Mumbai is currently the home of Asgar Patel & his family and is a State-of-the-art building overlooking the Arabian Sea.

NCPPL recently launched 'Sirocco Grande', in collaboration with a well established Developer, in the upcoming residential hub near the Mumbai- Pune Express Highway, close to the Oxford Golf Course & Sentosa Water Park. This upcoming project stands tall in the airy ambience. In the close proximity of the IT Park (Hingewadi), a pollution free environment, excellent architectural planning, abundant lifestyle features and most importantly complete freedom, Sirocco Grande is yet another of the upcoming Company's landmarks whose scheduled date of completion is October 2015. Spread over an acre of approx. 4 acres of land, Sirocco Grande' with 5 Towers of 14 floors each offers a great opportunity for both a grand living and investment.
The experience gained in the activity helped the group to establish a thriving Real Estate business in Dubai in 2008. In 2008 House of Patels launched their Real Estate arm in Dubai, WSP Realty. The Real estate division is driven by passion, quality and professionalism to provide best advice and service. The company has gained many high profile clients, which includes landlords, investors and organizations, both local & international. To ensure the best deals, properties are listed in its website www.houseofpatels.com. The Company facilitates customers to select properties by builder, location and price range. The Company employs multi-lingual staff with a thorough knowledge of all Real Estate launches in Dubai and its enhanced "Agents Network Program" is ideally suited for the clients.
On April 2013, Mr Patel launched a marketing campaign in the UAE to promote investment in the soon-to-be tallest tower in Thailand: The Ritz-Carlton Residences, MahaNakhon.
With its distinctive sculptural appearance, MahaNakhon has been carefully carved to introduce a three-dimentional ribbon of architectural 'pixel' that circle the tower's full height, as if excavating portions of the elegant glass curtain wall to reveal the inner life of the building - metaphorically and actually - an architecture that encloses and protects its inhabitants while revealing the inner life of their city. The pixelation gives MahaNakhon an arresting profile on the skyline while generating a set of very special features to house the diverse functions of the building complex in an intelligently strategic way.
Wall Street Finance Ltd: 1986 saw the establishment of Wall Street Finance Ltd. (WSFL) in India, a Non-Banking Finance Company with an Authorised Money Changing Licence from the Reserve Bank of India. WSFL was the first Indian company to be given a Full-Fledged Money Changers Licence and soon thereafter became a leader in Foreign Exchange and Money Remittance services in the country. The Company had become the only deposit-taking NBFC (D) that also had an Authorised Dealer (Category II) Licence. In October 2009, as part of the Group's strategic plans, group shareholding aggregating to 68% of WSFL was sold to Spice Group.
Instant Cash - Another House of Patels Initiative With the increasing number of expatriates overseas, the remittance business was bound to increase and so 'Instant Cash', a Global Instant Money Transfer Service was launched. When it comes to money, everyone's concern is safety & security, thus it was important to create a product which customers would be committed to and for which they were willing to pay a price. Instant Cash was another brand whose business was focused on the core brand values of trust, speed and efficiency. Another key component of the Instant Cash business was it's pricing strategy – in comparison to banks, Instant Cash was the cheapest mode of money transfer available.
Wall Street Exchange Centre: In 1982, the House of Patels crossed national boundaries and entered the Foreign Exchange and Money Remittance business with the launch of Wall Street Exchange Centre (WSEC) in the U.A.E. Some of its products included buying and selling of bank notes as a Wholesale business, issue of Drafts to Expatriates worldwide, Instant Cash and Instant Draft. This chain of Exchange Centres soon extended to cover the globe with the formation of Wall Street Forex London Ltd. in London and Patel's Wall Street Exchange Ltd. in Hongkong.

In 2005, as part of his strategic alliance, Asgar Patel brought in Empost, a Company owned by the Federal Government of UAE, as a strategic investor, by selling his 60% Shares. The synergy of these two Institutions provided great convenience to the public utilising money exchange and money remittance services in the U.A.E. This alliance offered tremendous convenience to customers through a one-stop single window service for small as well as large customers who would like to change money, send or receive a remittance, buy a draft or simply post a letter or send a parcel to any location worldwide. With the aim of expanding his other businesses and venturing into new businesses, 4 years later saw Asgar Patel divesting his balance 40% to Empost.
Wall Street Finance LLC, USA The success of the Money Exchange & Remittance Business in UAE, saw House of Patels enter the US market in the new millennium. with the setting up of Wall Street Finance LLC in New York. The Company has Remittance Licences from the State Banking Departments of New York, New Jersey and Georgia. The Company has strategic tie-ups with other Money Transmitters like RIA who have licences in all the 50 States of the USA. The operations are done through a network of agents besides its own office in Jackson Heights, New York and the network is growing daily. The Company has in place strong internal controls and KYC procedures to conform to global due diligence and compliance practices. Regular external compliance audits, training of staff and agents and software upgradation have helped the Company to establish firmly as one of the leading players for Remittance Business. The Company has further plans to expand to other States like Texas, Florida, Illinois & California. Also in the pipeline are initiatives to widen our geographical coverage to the Caribbean Islands, Latin America and China.
Wall Street Finance (Canada) Ltd., Canada: Strategic expansion plans led to the entry of House of Patels into Canada with the opening of Wall Street Finance (Canada) Ltd, in the year 2005. Wall Street Finance (Canada) Ltd. (WSFCL) has its office in Ontaria (They have recently shifted). Though the company has grown through the years, its aims have not changed and today WSFCL services the needs of thousands of clients, who have reposed their trust in the company, transferring money overseas every year. From private clients making payments overseas to corporate clients, with ongoing foreign exchange requirements, WSFCL aims to exceed expectations with excellent services from friendly, knowledgeable staff. Canadian expansion plans include opening offices in Vancouver, Montreal and Alberta. The Canadian operations have state-of-the-art technology to support its business operations and extensive tie-ups with correspondents. The Company is fully compliant with all the requirements prescribed by FINTRAC.
Patel Holdings Limited: Patel Holdings Limited is a Holding Company of the Group and has got diversified investments of the Group. The company is also into lending money against tangible securities to sound, reliable Corporates. To augment the company's liquidity, the Company also strategically invests in selective stocks. The Company is embarking on building warehouses meeting international standards so that idle assets will be put to commercial use and thereby augmenting the Company's revenue.
To have a successful 50 years for any entrepreneur, is a long haul, particularly when Patel, a far from flamboyant man, started with one truck and one vision'. It would also be noteworthy to mention the Group recently celebrate its Golden Jubilee having employed over 10000 people during these five decades in India and abroad. Including its overseas businesses, the turnover of this enterprise is well over millions of dollars.
Quick Links